HIUS 401-F: Digital History Seminar
Jefferson's Travels
Instructors: Scot French and Bill Ferster
Wednesday 3:30-6:00 p.m.
Virginia Center for Digital History
Alderman Library - Taylor Room, 3rd Floor
Overview | Instructors | Books | Syllabus | Key Dates | Resources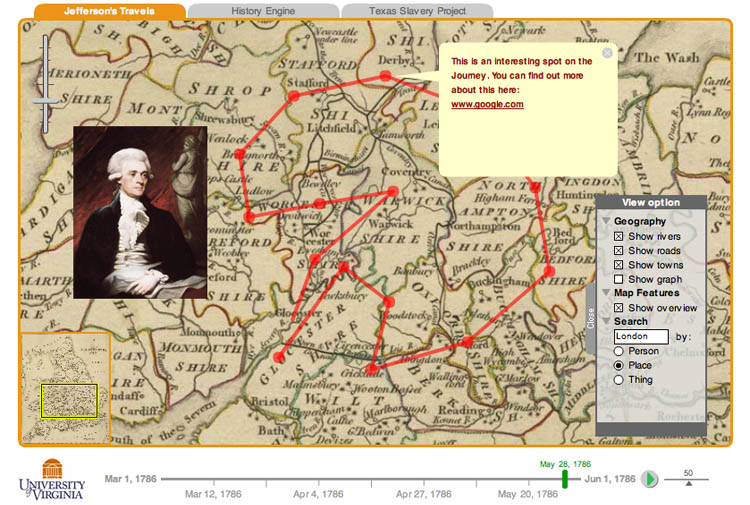 Mock-up of Historical Unit Browser (HUB) being developed for this course.
---
"Thomas Jefferson would have been fascinated by the Internet. Its global reach, speed, interconnectivity and potential for communication and education would have kept him at his writing desk for long hours."

Jim Horn, then-Saunders Director of the International Center for Jefferson Studies
Course Overview
HIUS 401 provides a unique opportunity to study Thomas Jefferson's 1786 journey to England and develop a state-of-the-art interactive website working closely with the Thomas Jefferson Memorial Foundation (Monticello).

In this class we will perform all the tasks involved in creating a highly interactive website containing images, documents, maps, diaries, and digital narratives pertaining to Jefferson's six-week journey to England. Each day will be mapped geographically and linked to visual resources on the activities he participated in, places he visited, items he purchased, and people he met.

Students will read secondary sources about Mr. Jefferson's trip, identify primary sources from Monticello Digital Library and other archives, work with digital maps, digitize new resources, annotate information, and create a powerful relational database.

Class discussions will investigate ways that the information can use the new digital tools (HUB) being developed at the Virginia Center for Digital History to make historical understanding more transparent and promote dynamic inquiry. Complex visualizations will be built as a result of these discussions using resources identified in the class, and added to the website.

Each student will complete a 10-page research paper, a short (2-3 minute) digital documentary using primary sources reflecting some portion of their research that interested them, and a "visualization" to be developed in consultation with the instructors.

Grading will be based on reading responses/class participation (25 percent), a 10-page research paper (25 percent), and public presentation of the digital documentary and visualization (50 percent).

The result of the class will be highly interactive website that will contribute to the digital historical literature base for scholars, historians and educators, and provide students with their first publication.
---
Instructors
Scot French (Ph.D., History, 2000) is Director of the Virginia Center for Digital History and an Associate Professor of History at the University of Virginia. His published works include analyses of Jefferson's writings on race and slavery (The Rebellious Slave: Nat Turner in American Memory, Houghton Mifflin, 2004) and Jefferson's relevance to later generations ("The Strange Career of Thomas Jefferson: Race and Slavery in American Memory, 1943-1993," co-authored with Edward L. Ayers, in Jeffersonian Legacies, University Press of Virginia, 1994). French has worked to bridge the divide between academic and lay scholars through grant-funded public outreach programs and digital partnerships. To support ongoing digital partnerships between University of Virginia scholars and community-based organizations throughout the region, French co-founded the Center for the Study of Local Knowledge (2002-present). Since assuming the directorship of the Virginia Center for Digital History in August 2006, French has expanded his vision of digital partnerships to include libraries, museums, universities, and community groups throughout the United States and the Atlantic World.

Bill Ferster (Ph.D., Instructional Technology, 2006) is a Senior Scientist at the University of Virginia with a joint appointment in the Virginia Center for Digital History and the Curry School of Education's Center for Technology and Teacher Education. Ferster has founded numerous companies including West End Film, developer of the first PC-based 3D animation system, EMC, developer of the first digital nonlinear editing system which received an EMMY Award in 1993, and StageTools, the leading developer of image animation tools. He is the founding director of the Primary Access Project, which enables K-12 students to create Ken Burns-like digital documentaries using primary source historical documents.
---
Books and Other Assigned Readings
Assigned readings will average between 175-200 pages per week. The following texts have been ordered through the University of Virginia Bookstore:

Jefferson and His Times

Bernstein, R. B. Thomas Jefferson. Oxford University Press, 2005. Trade Paper. ISBN: 0195181301. List Price: $15.95. Used copies available at U.Va. Bookstore for $12.00. IN STOCK

Brandt, Anthony. Thomas Jefferson Travels. National Geographic Society, 2006. Trade Paper. ISBN: 1426200587. List Price: $15.95. ON ORDER

Schwartz , Richard B. Daily Life in Johnson's London. University of Wisconsin Press, 1983. Paperback (ISBN: 0299094944). List Price: $19.95. New copies available at U.Va. Bookstore for $19.95. IN STOCK

On Digital History, GIS, and Design

Cohen, Daniel, and Roy Rosenzweig. Digital History: A Guide to Gathering, Preserving, and Presenting the Past on the Web. Available on-line or in print. University of Pennsylvania Press, 2005. Textbook Paper. ISBN: 0812219236. List Price: $28.95. IN STOCK

Knowles, Anne Kelly. Past Time, Past Place: GIS for History. Trade Paper. ESRI Press, 2002. ISBN: 1-58948-032-5. List Price: $30.00. ON ORDER

Norman, Don. The Design of Everyday Things. Basic Books, 2002. Trade Paper. ISBN: 0465067107. List Price: $16.95. Used copies available at U.Va. Bookstore for $12.75.

Staley, David J. Computers, Visualization, and History: How New Technology Will Transform Our Understanding of the Past. M.E. Sharpe, Inc., 2003. Trade Cloth. ISBN: 0765610957. List Price: $24.95.

Other readings and supplementary materials will be made available through the course TOOLKIT.


---
Syllabus
Week 1 /August 29 - Introductions and Course Overview

Monticello webmaster Chad Wollerton will be joining us for this introductory session. He will give us a tour of Monticello Helios Digital Archive (log-in/password required) and the Jefferson Travels database that we will be populating this fall.

Bill Ferster will demonstrate HUB and talk about visualization. He will also show a short video (Hans Roslings 2007 lecture, "The Seemingly Impossible is Possible") and a demo of a social relation browser.

Finally, just for fun, will view excerpts from the Merchant & Ivory film Jefferson in Paris (1995), starring Nick Nolte (as Jefferson), Greta Scacchi (as Maria Cosway), and Thandie Newton (as Sally Hemings).

Question: Should historians leave visualization of the past to Hollywood? Read J-STOR reviews by historians Joyce Appleby (Journal of American History), Douglas R. Egerton (American Historical Review), and Darren Staloff (William & Mary Quarterly).

---

Week 2 / September 5 - Jefferson as Recordkeeper ~ Digitizing History

Lucia "Cinder" Stanton, Shannon Senior Research Historian at Monticello, will join us for this session. She is co-editor (with James A. Bear) of Jefferson's Memorandum Books : Accounts, With Legal Records and Miscellany, 1767-1826, a critical source of detailed information on Jefferson's travels in Europe.

Reading assignments for this week:

ON-LINE: Carl Becker, "Everyman His Own Historian," American Historical Review 37 (1932): 221-236. [Available through J-STOR; 16 pages printed]


ON-LINE: Edward L. Ayers, "The Pasts and Futures of Digital History," (1999). [Available on VCDH website; 8 pages printed.]


TEXTBOOK OR ON-LINE: Daniel Cohen and Roy Rosenzweig, "Introduction: Promises and Perils of Digital History" in Digital History (2006), pp. 1-17.


Don Norman, The Design of Everyday Things, Chs. 1-3, pp. 1-80.


Bill Ferster, HUB (Historical Unit Browser). [Available online on VCDH website]. See also Andrew Torget, "A Historian's View of the HistoryBrowser." [Available online on Primary Access website].


Other Assignments:

Browse VCDH project websites and familiarize yourself with our various "Legacy" projects (Virtual Jamestown, Geography of Slavery, the Dolley Madison Project, Valley of the Shadow, The Countryside Transformed, etc.). How might the HUB/HistoryBrowser aid in visualizing these topics?


Sign up for the course blog. You'll need to sign in with a Google Account to confirm the invitation and start posting to this blog. (If you don't have a Google Account, you can sign up for one in minutes.) Please post something so that we know you've been there.


Print out excerpt from Jefferson's Memorandum Book (9 printed pages total), posted on TOOLKIT, and bring with you to class.

---

Week 3 / September 12 - From British Subject to American Diplomat ~ Jefferson's Declarations of Independence

Reading assignments for this week:

Research assignments for this week:

Enter one "event" in the Jefferson Travels database drawn from the randomly assigned pages of Jefferson's Memorandum Book handed out in class. The purpose of this assignment is to get you oriented to the database and its fields. Instructions for accessing the database were handed out in class. Please let us know if you have any trouble with the login.


Choose a day from your assigned section of Jefferson's Memorandum Book and make a list of all the "events" on that day. Post your list on the course blog. The purpose of this assignment is to extrapolate multiple "events" from a single source.


OPTIONAL - Choose an "event" that interests you, do some online searching to illuminate the subject, and post your findings on the course blog. Where did your research take you? Include links to sources.

---

Week 4 / September 19 - Field Trip to Jefferson Library at Monticello's International Center for Jefferson Studies

Foundation Librarian Jack Robertson will give us a tour of the Jefferson Library and introduce us to the work of scholars at Monticello's International Center for Jefferson Studies. Meet at Chapel area (near bus stop) at 3:30 for car pool. Please be prompt.

Reading assignment for this week:

TEXTBOOK: David J. Staley, Computers, Visualization, and History: How New Technology Will Transform Our Understanding of the Past, pp. 3-57 (intro, chap 1 & 2).

Study Questions

Define Historical Visualization. Is it better or worse than tradtional narrative prose?

What are the advantages and disadvantages (affordances/constraints)?

Why is prose the dominant form of discourse?

What did Arnheim mean about cutting a 1-dimensional path across 4-dimensional complexity?

Do we want to do abstract or representational visualization in JT?

Research assignment for this week:

Continue the work from class by identifying 10-20 events from your time period.

In Word, fill in the following information for each event:

Event Title (5-25 words)
Start date
End date (can be same as start)
Short Description (1-2 paragraphs)
Tags (single word entries that help to identify when searching)
Media associated with event (i.e. urls of pictures)

For each person associated with event:

Person's name
Birth date
Death date
Short Description (1-2 paragraphs)
Tags (single word entries that help to identify when searching)
Media associated with person (i.e. urls of pictures)

Where the event is located:

Place (5-25 words)
Short Description (1-2 paragraphs)
Tags (single word entries that help to identify when searching)
Latitude/Longitude
Tags (single word entries that help to identify when searching)
Media associated with place v(i.e. urls of pictures)

Evidence

Evidence Title (5-25 words)
Start date
Published Date: (if applicable)
End date (can be same as start date)
Short Description (1-2 paragraphs)
Type of evidence (ie. Book)
Evidence Page
Evidence publisher
Evidence Location (url or repository):
Tags (single word entries that help to identify when searching)
Media associated with event (i.e. urls of pictures)

Post all of your entries in ONE post on the course blog, preferably by Sunday night, but no later than Wednesday at 9 a.m.

---

Week 5 /September 26 - The Past is a Foreign Country: Visualizing 18th Century London


Woodcut from the Trial, Confession, and Execution of Joseph Richards (1786), reprinted on the blog Giornale Nuovo: Gallows Literature

PRE-APPROVED TOPICS:

Taverns and Dining (Eric)
Daily Routines & Domestic Life (Julia)
Crime and Punishment (Rob)
Entertainment (Trevor)
Travel & Transportation (Tom)
Role of Church (Connor)
Labor (Ed)
Health (Lauren)
Hygiene/Sanitation (Beth)



Reading assignments for this week:

Read all of Richard B. Schwartz's Daily Life in Johnson's London (178 pages) and be prepared to answer the following questions.



Who is Johnson? (The author assumes you know.)


Schwartz relies heavily on the accounts of foreign travelers. Why? What do travelers observe that inhabitants might not?


Based on what you read here and what you read in Jefferson's letters from the period, ask yourself: Is Jefferson an acute observer? What do his records reveal about daily life in England? What do they obscure?


Research assignments for this week:

Move last week's research entries into the Jefferson Travels database. Begin to expand upon them as time allows.


Choose a topic of interest from Schwartz's book (travel, health, etc.). Be prepared to create a capsule summary of the information provided for use on our Jefferson's Travels website.



To avoid duplication of topics, please send the instructors three general topics of interest to you, ranked in order of preference. We will assign topics on a first-come, first-served basis.



Choose three issues of the Times of London Digital Archive from the six weeks that Jefferson was in England.



What picture of English life emerges from this primary source? How does it compare to Schwartz's historical account?


Mark items of potential relevance to our study of Jefferson's Travels and bring them with you to class.

---

Week 6 / October 3 - Jefferson's Travels as Trade Ambassador/Diplomat

Reading assignments for this week:

TEXTBOOK: Thomas Jefferson's Travels, Selected Writings, 1784-1789, Ch. 3: "The Labyrinth of Diplomacy," pp. 71-135.


TOOLKIT: Howard P. Nash, Jr., The Forgotten Wars: The Role of the U.S. Navy in the Quasi War with France and the Barbary Wars, 1798-1805, Ch. 1, "Appeasement," pp. 21-38.



Research Assignment for this week:

Write a short, wikipedia-style capsule summary of your pre-approved topic (see list above) dealing with everyday life in London ca. 1786. Be sure to reference one or more relevant articles from the Times of London Digital Archive from the six weeks that Jefferson was in England.


Create new "events" in the Jefferson Travels database for each of the letters Jefferson sent/received during his stay in London. The instructors will scan Jefferson's correspondence, divide the pages equally among you, and post the packets on TOOLKIT by the weekend.


Map from a Time magazine cover story on The Radical Mind of Thomas Jefferson. Subtitle to article on TJ's diplomatic mission: "Muslim foes. Kidnappings. How the Barbary Wars foreshadowed things to come"

---

Week 7 /October 10 - Jefferson's Travels as Gardener and Architect

"The idea [for the Garden Pavilion at Monticello, left] may have been inspired by what he saw in 1786 at the great English landscape park, Stowe [right], where two recesses, in which there were temples, terminated a long, straight walk. Jefferson noted in his journal that the two recesses were "like the bastion of a fort" and that"in one of these is the temple of Friendship, in the other the temple of Venus. They are seen the one from the other, the line of sight passing, not thro' the garden, but through the country parallel to the line of the garden. This has a good effect."

Text from Thomas Jefferson Wiki, "Garden Pavilions"; images from Helios Digital Library

Richard Guy Wilson, Commonwealth Professor of Architectural History and former Chair of the Department of Architectural History, will discuss Jefferson's visit to England in 1786, with a focus on gardens and architecture. Prof. Wilson's presentation will feature slides from his research trip to England this past summer.

Reading assignments for this week:

---

Week 8- October 17

Your assignment for this week is to read a scholarly book or several scholarly articles related to your topic and write up a four-page summmary that speaks DIRECTLY to the theme of your research project.

Please be prepared to discuss in class how you will translate your research project into a visual format using the History Browser.

---

Week 9 - October 24

In-Class Discussion/Work Session

---

Week 10 - October 31

In-Class Discussion/Work Session

---

Week 11- November 7

In-Class Discussion/Work Session

---

Week 12- November 14

In-Class Discussion/Work Session

---

Week 13- November 28

In-Class Discussion/Work Session

---

Week 14- December 5

Presentations of final projects to project partners at International Center for Jefferson Studies (Kenwood)
---
Key Dates (Drop/Add/Withdraw)
Tuesday, Sept. 11 -- Last day to DROP a course (deletion from the transcript)

Thursday, Sept. 13 -- Last day to ADD a course, elect the audit option, change the grading option (grade or CR/NC), or establish an independent study

Tuesday, Oct. 23 -- Last day to withdraw from a course (instructor's permission required)
---
On-Line Resources
Monticello Helios Digital Library (log-in/password required)

Massachusetts Historical Society (home of The Thomas Jefferson Papers and The Adams Family Papers)

The Thomas Jefferson Papers - American Memory from the Library of Congress

The Times of London Digital Archive, 1785-1985 (access restricted - use VIRGO)

Thomas Jefferson's Notes on the State of Virginia (E-Text)