Hilary Teage:
Discord And Nostalgia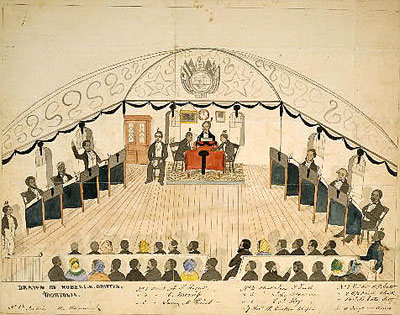 Hilary Teage left Richmond, Virginia at age fourteen, for a settlement in West Africa that did not yet have a settled name or site. His father, Colin Teage, and Lott Cary were Baptist ministers who purchased freedom for themselves and their families and acquired land and houses in the Richmond area. As the Providence Baptist Church, they emigrated to be missionaries in the new colony established by the American Colonization Society (ACS). For several years after their arrival, Colin Teage's family — wife Frances, daughter Colinette, and son Hilary — lived primarily in Sierra Leone, where Hilary Teage received some education. Upon their permanent return to Liberia, the younger Teage became a merchant, a Baptist minister, an editor and an advocate of settler control of Liberia. He was scarcely alone in this opinion. The history of the colony had been one of dispute and discord between the settlers and the ACS, the first rebellion occurring almost as soon as the first settler set foot on land and regularly thereafter.
Hilary Teage was widely viewed as a very bright man, and an angry one. His writings suggest that his anger was fueled by the exclusion of free blacks from citizenship and opportunity viewed through his own experience in Virginia. In one editorial he wrote, "New Virginia [a new settlement] is looking up. We trust we love all mankind . . . , but somehow we do love Virginia and Virginians. How strange that we should love a place that despise us and cast us out. Well, let New Virginia copy all in the old that is good and reject the bad."1 While editor of The Liberia Herald (1835-49), his editorials ranged widely and informatively over such topics as native plant and animal life, daily life and practices among indigenous groups, agriculture, and women's fashions in Monrovia. His greatest interest was Liberian history and politics and he realized early that Liberia must be independent. In a private letter, he assessed the relations between Liberia, the ACS, and the United States government accurately. "You are probably aware of the nature of our relations with the people of the United States. With them as a nation we have nothing to do. From the first the Government disowned us, and up to this hour disclaims all political connexion. With a few American citizens confederated under the title of the American Colonization Society, we hold a temporary and conditional relation"2
Teage helped that "temporary and conditional relation" to fray. In 1838, he helped prepare a new constitution to replace the ACS laws. In 1844-45, he published a history of the colony that made a case for self-government. In 1847, as a member of the Constitutional Convention, he wrote the Liberian Declaration of Independence, modeled on the American one, and did as much any person to frame and establish the Republic of Liberia.3 Under the Liberian Constitution, the indigenous peoples of Liberia could become citizens if they adopted the Western culture and Christian beliefs of the American settlers. Citizenship was not based on race, that standard that had barred them in the United States, but on achievement and embrace of the nation, that standard that they had well met in the United States.
Teage did not prosper in any of his occupations, as merchant, minister, or editor, although he enjoyed the venues for ideas in the latter two. His true talents were for political philosophy and acute observation of the world around him. But Liberia could not yet support such talents and Teage could not become a successful merchant. Teage died in May, 1853, at age 46.
Marie Tyler-McGraw
September 27, 2008
Liberia Herald 24 Nov. 1848, p.8.
Teage to Fergusson, Monrovia, 16 Sept. 1841 in CO 267/166, letter enclosed in Fergusson to Lord John Russell, Foreign Office, 20 Dec. 1841 in Svend Holsoe Collection, Archive of Traditional Music, Indiana University, Bloomington, Indiana.
"The Late Hilary Teage of Liberia," African Repository (October 1853), 316-317.
Copyright, Fair Use, and Citation Information
For information on using copyrighted Virginia Emigrants to Liberia materials and how to properly cite materials found on the site, visit our Copyright page.