Liberia Stories
The American Colonization Society (ACS) was organized in Washington, D.C. in late 1816 by a group of prominent white men, mostly clergymen and upper South politicians, who wanted financial support from Congress for the colonization of American free blacks, with their consent, outside the United States. The ACS declared that white prejudice would always keep free blacks from full liberty and citizenship in the United States. In 1818, the Society sent agents to West Africa to investigate a region near Sierra Leone and, in 1820 and 1821, established a small colony that came to be called Liberia.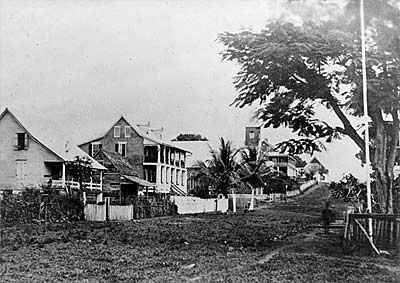 For the next forty-five years, until the end of the Civil War (1861-65), the Society sought to persuade free blacks to emigrate and to persuade the holders of slave property to emancipate for emigration to Liberia. The Society was hampered in two important areas. They failed to receive direct funding from the Congress and they failed to receive significant support from free blacks. Northern free blacks generally dismissed the idea of African colonization, believing it was designed to strengthen the system of slavery, but it was of interest to some Chesapeake free blacks.
Enough free and emancipated blacks left Virginia for it to become the state with the greatest number of emigrants to Liberia. One of the most difficult questions in American and Virginia history is how to know the lives of enslaved African Americans. They might appear briefly in probate records, farm and plantation account books, family letters, or church membership rolls, but they did not appear in the census and seldom left documentary evidence of their lives. One important exception is the ACS ships' lists of emigrants bound for Liberia that gathered basic census-like information from each emigrant. The ships' lists of emigrants and the correspondence between Virginia and Liberia, held in the American Colonization Society records at the Library of Congress, are the core source for the database of Virginia emigrants and offer a close look at the family structure, origins, and expectations of some 2500 emancipated slaves and approximately 1000 free blacks from Virginia. The list of emancipators reveals gender, regional, and time differences in emancipations.
This collection of documents and data reveal the complex responses of white and black Virginians to the idea of African colonization and examine local level attitudes toward slavery and the rights of free blacks. It is anticipated that the website will reach researchers who have more information about the local families featured in the database and who can add to the information available onsite. In this sense, the database and the project are a collaboration with the public.