The Virginia Emigrants to Liberia Project…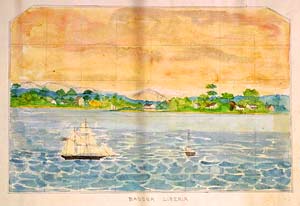 Between 1820 and 1865, about 3,700 African Americans sailed from Virginia to make a new home on the West Coast of Africa. Many died of tropical diseases; others struggled for survival. Some thrived and became leaders of Liberia, the first independent republic in Africa. The American Colonization Society sponsored this migration nationally, although they were chronically short of the funds needed to pay for emigrants' passage and resettlement. The Society's voluminous records at the Library of Congress contain relatively untapped information illuminating the lives of free and enslaved black Americans in the United States and Africa. This project focuses on Virginia, the state with the most support for colonization and the largest number of black emigrants.
Information for Virginia Emigrants to Liberia comes from the Library of Congress and many other sources. The heart of the project is a database with two searchable tables. The Emigrants table contains--when available--full names, ages, family relationships, place of origin and destination, literacy, occupation, and more. The Emancipators table includes county, year of emancipations, and other information on more than two hundred Virginians who manumitted emigrants to Liberia. Other resources include stories of some emigrants and emancipators and related primary sources. Together, the information contained here facilitates deeper research into African American genealogy and history and new understandings of interpersonal relationships and global history.