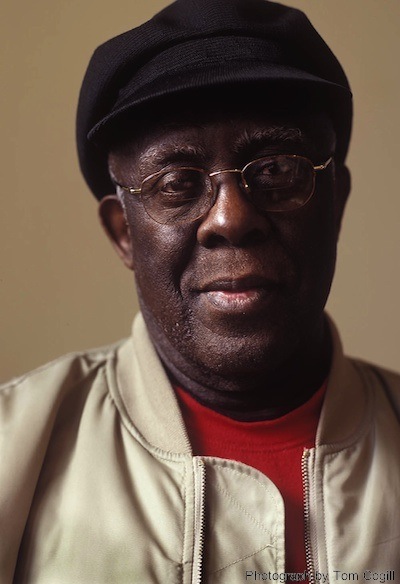 Charles T. Oliver
Former Music Director, Loyal Baptist Church
(b. 1934)
Every Sunday from 1998 to 2007,
Charles Oliver directed the choir and played the Moller organ at Loyal Baptist Church, founded in 1865 by freed slaves. As music director at one of the oldest African-American congregations in Danville, he found himself connected to a community of believers, church musicians, and citizen activists.
In the segregated 1940s, 1950s, and 1960s, Loyal Baptist was a site for school graduations and plays, community events and mass meetings. During that time, the pastor, the Reverend Doyle Thomas, Sr., was the longtime president of the local branch of the National Association for the Advancement of Colored People (NAACP). The youth group of the NAACP met at the church, and in April 1960 the young people marched from Loyal Baptist to a sit-in at the segregated Danville Memorial Library. In the fall of 1963, Rev. Thomas helped negotiate with white leaders for the appointment of the city's first African-American policeman since 1883. Under Rev. Thomas's leadership, the congregation was home to more than a dozen societies and organizations for civic, religious, and social purposes: Missionary Circle, Senior Choir, Gospel Chorus, Fifty-Year Plus Members, Galeda Class, Metoka Class, Pastor's Aid, Deaconess Board, Fidelis Class, and the Girls Ensemble among them.
The congregation is smaller now, the classes and circles not so numerous; African-Americans are part of the political life of the city. But for Charles Oliver, there was a thread of continuity in all the changes at Loyal Baptist—the music making that occurred each Sunday.
"Times change, but we are still singing for the glory of God, not man."
—Charles T. Oliver
Interview Excerpts
Related Resources
Biography
Interview excerpts for Charles Oliver are not available. Gladys Hairston, a 2004 graduate of the University of Virginia, interviewed Mr. Oliver by telephone in 2005, but the conversation was not recorded.
Click on the image thumbnails below to view a larger version of the image.
Charles T. Oliver has been a church musician from an early age. Born in Danville on October 23, 1934, he learned to play the piano at age five and at ten played for a children's choir at Trinity Baptist Church, formed in 1902 by twenty-eight disaffected members of Loyal Street Baptist Church. A lifelong member of Trinity Baptist, Mr. Oliver has served there as director of the youth singing group, minister of music, and superintendent of the Sunday school. In 1998 he disagreed with a change in the direction of Trinity's music ministry, and joined Loyal Baptist as minister of music from 1998 to 2007, while retaining his membership at Trinity and continuing as superintendent of the Sunday school. On his resignation from Loyal Baptist, he resumed his position as minister of music at Trinity Baptist. Mr. Oliver played semipro baseball and coached Little League after his graduation from John M. Langston High School in 1953. He worked for the Danville Parks and Recreation Department from 1963 until his retirement in 2010 as a recreation supervisor for senior citizens.