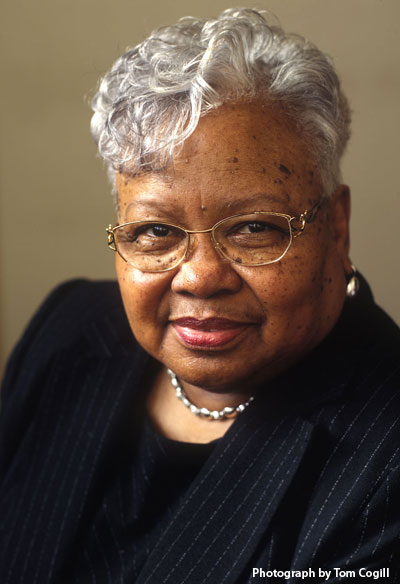 Ruby B. Archie
Educator, City Council Member, Former Mayor (1934–2010)
During the 1963 civil rights movement,
Ruby B. Archie did not demonstrate, and admitted some might have considered her "old school." But she pointed out that each citizen assumed the role he or she was most comfortable with and could best fulfill. As a member of the National Association for the Advancement of Colored People (NAACP), she gave money to help with the legal costs of those who were arrested and jailed. The leaders of the activist Danville Christian Progressive Association (DCPA) tended to view the local NAACP as too slow in achieving integration of public facilities. However, Mrs. Archie noted that after scores were arrested that summer, the DCPA had to rely, in part, on the NAACP for legal assistance.
Although, as mayor of Danville from 1998 to 2000, Mrs. Archie was instrumental in having the nineteenth-century African-American Holbrook-Ross neighborhood placed on the National Register of Historic Places, she did not believe a historical marker should be erected to commemorate the 1963 protests, which centered on the Municipal Building (pictured, at right). "We don't want our people to forget that history. We want them to appreciate it, have knowledge of it, yes, and never forget that part of our culture. … but I think a marker would be too pronounced. … We have to continue to talk about it. … That makes it more appreciated than a marker."
"That was a painful experience and you had to be here to watch it or be a part of it to know how painful it was. … I don't think we need a marker to remind us of those painful events."
—Ruby B. Archie
Interview Excerpts
Related Resources
Biography
These selections come from an oral history of Mrs. Archie conducted by Emma C. Edmunds in Danville, Virginia, on June 20, 2004.
When Mrs. Archie first moved to Danville in 1956 to teach at John M. Langston High School, she boarded at 512 Holbrook Street in the home of Rosa Nevitt and her husband, Samuel Nevitt, a plasterer. She estimated that forty-five to fifty teachers lived in the Holbrook-Ross neighborhood, where Westmoreland Elementary School and Langston High School were located.
I lived right around the corner from the high school with Sam and Rosa Nevitt. There were three of us staying there: a young lady named Alice Teague, who taught math; and another young lady, who was named Ruby Gaylord and she was an elementary teacher. We stayed upstairs. The house was a house with a full basement that was fully furnished and developed. So we stayed upstairs opposite the living room. You had to come in the front door into the living room and off to the right from the living room were our rooms. Our rooms were adjoining rooms. We went into the first room, where Ruby Gaylord stayed. We called her Gaylord—everybody in '56 used to call each other by their last name and that was to keep the youngsters from calling us by our first names. Alice Teague and I stayed in the back room, back of her room, which was the adjoining room. We had twin beds and Gaylord had a double bed.
We stayed there with Sam and Rosa Nevitt, who not only housed us, but they fed us. We ate breakfast every morning. Mrs. Nevitt got up and prepared our breakfast and then when we got back in the evening at a certain time, she had our supper prepared. We felt as though we were family. You had to feel close-knit to the people with whom you were living because you did everything right there with them. There wasn't much that you did that they didn't know you were doing. Even if you dated, you dated in their living room. You were talking to the young men and then, you know, they might come through or they might sit there with you while you had your dates there. But it was a pleasant experience.
African Americans who attended Danville's movie theaters, such as the Capitol, sat in the balconies, or they went to the city's black theater, the Ritz, on Spring Street. Alternatively, like Ruby Archie and her friends, they stayed at home and created their own activities.
It wasn't anything for the blacks to do back then but meet and greet and play cards. Now we were lovers of cards, so we'd get together when we had time and we weren't working on school work and play cards and that's about all we could do. … We enjoyed being with each other and carrying on the activities that we created for ourselves. We had one black theater down on Spring Street and it was called the Ritz. Yes, if they went to the Capitol they had to sit in the balcony. … We had to get together and create activities that we called fun-loving activities. I believe everybody played cards.
We would play bid whist. Some people played bridge and we played pinochle. These were three games that we played and you could always find a partner and say, "Let's get a card game going." … [We would play] in people's houses. Primarily the kitchen table. Move everything off the table and just sit there and play. We rarely ever went into anybody's dining room, because the dining room tables were too big. We just wanted a table small enough for four people. It was primarily in the kitchen that we played, unless you were playing solitaire. [Laughs] Sometimes we did that, but we did that on our own beds because, as I told you, we were living in homes and so you wouldn't take up somebody's kitchen for a solitaire game.
Mrs. Archie's interview highlights some of the paradoxes of segregation. It was an oppressive system of discrimination that required African Americans to attend separate schools; prevented them from living in the neighborhoods of their choice; and subjected them to daily humiliations in denying them access to public facilities, yet Mrs. Archie recalled the era as one in which teachers, parents, and neighbors united in a commitment to the education of youngsters; residents lived in a close-knit community; and students respected and admired educators.
Everybody just respected teachers. They put teachers on a pedestal. They thought teachers could do no wrong, so they were looked upon as a high echelon. Whatever a teacher said or did, everybody else tried to pattern after them because they were the models. Back in segregated days, the late '50s and early '60s, as a teacher you had very few problems out of the children because the parents were so cooperative. Parents believed anything the teacher said. I think teachers could have told falsehoods and the parents would have believed them. [Laughs] They wanted their children to respect the teachers. They wanted their children to get all the education they could get. They wanted their children to know that they were partners with the teachers because the teachers took the attitude that they were the parents away from home.
…
Most times when you saw [students] on the street, if we walked—we had to walk downtown, we didn't have transportation—most of the time they were always polite, always greeting you. If they saw you five times a day, they said, "Hello Mrs. or Miss So-and-so." If they were gathered in a bunch on the sidewalk, they would quickly move so you could get by. This is the kind of attitude of respect that they had for teachers, so it was a wonderful close-knit relationship with students, parents, teachers, and the neighbors.
When Langston High School teachers took students on road trips to drama competitions during segregation, they had to calculate how to travel when facilities were segregated. In this excerpt, Mrs. Archie recalled a ruse that worked on trips to Virginia State University in Petersburg.
Now as far as the plays were concerned, we always did the one-act plays for competition. We went to Virginia State to meet other schools and compete with other schools. We would always take those youngsters down in cars. Now heaven forbid, had something terrible happened and somebody had gotten maimed or killed taking them to Virginia State—but nothing ever happened—and we carried them down there every year to compete. That was a beautiful experience.
There was one man on our faculty—I hope you know what I mean when I say he can pass for white. He was a very fair black man, but he could pass for white. If you didn't know he was black, you would have thought he was white. He always went with us to Virginia State. We would stop in South Hill. He would go in the front door of the restaurant, buy our meals, and bring them back to the car so we could eat. Never was a question asked, because they thought he was white like they were. [Laughs] He did it religiously for us every year. He was great about doing that. He didn't mind. He'd take our money and he'd go in there and get whatever we wanted. He'd have it all written down on paper and that was our breakfast, because we sometimes left at 5:30 or 6:00 o'clock in order to get to Virginia State by performance time. We could always get something at the grill at Virginia State, so that was no problem. We would usually get back home before it was too late, so we didn't stop coming back. If we wanted a soda or anything, we'd send him in to get us a soda and he brought it back and there we were, going down the road, eating in our laps [Laughs] or drinking the soda.
Mrs. Archie came to Danville to teach in 1956, two years after the U.S. Supreme Court's decision in Brown v. Board of Education that segregated schools were unconstitutional. In 1956, U.S. Sen. Harry F. Byrd (D-Va.) espoused the doctrine of massive resistance, closing public schools rather than integrating. In 1958, city officials opened the new John M. Langston High School for African Americans, even though the U.S. Supreme Court had ruled that segregation was unconstitutional. Mrs. Archie was asked whether the white officials' motivation was to create facilities that were "equal," thus creating a stalling tactic against integration.
Now we said among ourselves that Langston and G.W. [George Washington High School] were built so close together that they did it on purpose, all right? We thought they did that to keep segregation going on in Danville. We had no proof of it. … Langston sits at the bottom of the hill. G.W. is at the top of the hill. They are just two streets apart. This is why we thought they put them close together; they were thinking, We can keep the blacks here and they won't bother to go to G.W. But then we had the freedom of choice and some few students went over to G.W. anyway and that started the ball to roll. You had a few more each year who would enter into the school because of freedom of choice, but Langston remained Langston until we were forced to integrate in '70 and that became total integration.
NAACP vs. DCPA
African-American activists, dissatisfied with the pace of progress made by the local NAACP, formed the Danville Christian Progressive Association (DCPA) in 1960. Mrs. Archie reflected on the tension between the two local groups, and talked about the ways that the NAACP was initially regarded by the white community.
They [the DCPA] thought the NAACP was moving too slowly. They said: "They're not going to do anything. It's taking them too long. Let's take over and do it ourselves." But they had to rely on the NAACP because the NAACP had the people with the lawyers who could really come in and get things done. The progressive group didn't have those big-time lawyers who could come in and make things happen, so they had to eventually rely on the NAACP. Reverend Thomas was the president [of the NAACP] at that time. He remained president for years. They wanted to push him faster than what he thought things needed to be moved. There is always, seemingly in whatever starts, a group that opposes what is being done and—.
Even some of them said, "Well, he's too old to be leading the NAACP now." Well, the NAACP was a group that was highly respected among the races in Danville, because at one time if you told that you were a member of the NAACP, we suspected it might prohibit your getting certain positions and jobs. We don't have proof of that, but there was fear of the NAACP; so if you mentioned that word, it would make some of the whites just shake, because they knew how powerful that group was because it was a nationally organized group. It wasn't just a local group. This is what I mean by saying those big-time lawyers could come—the national office could get them in here to work with whatever the situation was.
You were proud to be a member, but you didn't say it too loudly because they had been accused of being Communists and you didn't want that associated with your name. Honestly, they were not any part of the Communist party—never had anything to do with them. It was just a group that thought we deserved certain rights, and they were fighting for those rights.
1963 Protests: "A Painful Experience"
One aspect of the Mapping Local Knowledge project looks at how the 1963 civil rights events and police violence have been integrated into the community's collective history and memory. In her 2004 interview, Mrs. Archie stated she did not think there should be a historical marker erected noting the protests. Instead, she said, the events should be talked about and discussed publicly.
That was a painful experience and you had to be here to either watch it or be a part of it to know how painful it was. I don't think we need to be reminded of the pain. We need to think in terms of where we have come and where we want to go instead of where we've been and how we got here. We can't forget how we got here, but I don't think we need a marker to remind us of those painful events. … The marker wouldn't be the only way to make us remember, because we don't want our people to forget the history. We want them to appreciate it, have knowledge of it, yes, and never forget that part of our culture that we encountered, but I think a marker would be too pronounced. … Many of our youngsters don't even know anything about it. So we have to continue to talk about it in order to give them knowledge and appreciation of the past from whence we've come. That way I think it makes it more appreciated than it would be just having a marker there. You'd look at that marker and it [wouldn't] mean anything to you.
Integration: The First Two Years
When George Washington High School fully integrated under a court order in September 1970, the school was closed for at least one day due to unrest between blacks and whites. Mrs. Archie, who was recruited to serve as the head of the English department, characterized the first two years of integration as extremely difficult.
For the first two years of integration, it was tough, and when I say tough, that's describing it mildly, because the youngsters didn't want to be together. They would walk out of school any given time. They had a signal that they had among themselves that at a given time, when they decided, they'd walk out. The top of the back of the school is Christopher Lane. They'd walk up on that hillside and they would fight each other—the whites and the blacks—and it just went on for about two years and it was so frustrating.
Many of the white teachers were afraid to even go in the hall when the youngsters walked out. I had several of them ask me one day, "Why aren't you afraid, walking out in these halls by yourself?" I said: "These kids know I haven't done anything to them. They're not going to bother me. They don't want to be here with each other. It's not the teachers they are mad with. They are mad with each other because they were forced to come together."
Integration: The First Prom
You had chaperones in there; you had almost as many chaperones at the prom as you had students. So they wanted to make sure they saw everything that went on, could tell you everything that went on, and they were very well supervised. … It was understood before they went there that we didn't want any mixed couples. So the blacks danced with the blacks. The whites danced with the whites. There were certain numbers that blacks would dance only. The whites wouldn't get out there on their own and it was just funny. And there were certain numbers that whites danced on that blacks wouldn't get out there and dance on. But I think after they really realized, This is for all of us, we ought to cut this out, they came around to having fun. They all looked so pretty. Yeah—but it was awkward there for a while. It really was. But nobody had to say, "Don't you dance with this one," or "Don't you dance with that one." I think it was just a given thing that they understood.
Ruby B. Archie, interview by Emma C. Edmunds, June 20, 2004, transcript, Danville Community College, Danville Public Library, and Mary Blount Library at Averett University, Danville, Virginia.
Click on the image thumbnails below to view a larger version of the image.
Ruby B. Archie was a longtime Danville educator and public servant. A native of North Carolina, she was educated in the Rocky Mount, N.C., elementary and secondary schools before attending Virginia State University, from which she graduated in 1956 and received a master's degree in 1970. She came to Danville in 1956 and for ten years taught English and French at the then segregated John M. Langston High School. After serving as head of the English department at Langston for four years (1966–70), she was recruited for the same post at George Washington High School when it fully integrated in 1970. In that position, she taught two classes and supervised twenty-two English teachers until her retirement in 1993. At the urging of fellow educators, she ran for and was elected to the Danville City Council in 1994. From 1996 to 1998, she served as vice mayor, then was chosen by council members as the city's first female mayor. After two years as mayor (1998–2000), she wanted to spend more time with her family and stepped down, but remained on council and was a member at the time of her death on July 24, 2010.